STRETCH FILM
We offer a wide range of papers suitable for the Flexible Packaging either for the food converting or bakery industry and so on.

Manufactured from low-density linear polyethylene blends, in flat coextruders (cast), from 3 to 31 layers, this product is made available in manual or automatic versions. This kind of film is used to palletize cargo to allow for storing and transporting in a safe and quick way.
PRE STRETCH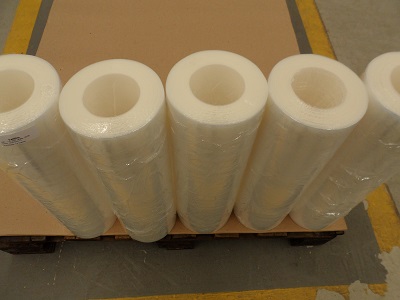 This is a new concept of manual stretched film, produced with special resins in cutting edge pre-stretching equipment, with widths between 8 and 12 µ. This new technology allows for lower cost packaging per pallet and better ergonomics, reducing storage space and using less plastic.

ECO STRETCH
Available in conventional, prestretch, and automatic versions, Eco Stretch is the innovative stretch film that has been developed without using the cardboard tube, which is replaced by a reusable plastic applicator, contributing to reduce disposals and consequently decreasing environmental impact. It presents excellent ergonomics, decrease of occupied area in transport and storage, besides allowing for a more precise checkup of invoiced net weight.